Designing ADA Compliant Signs might be complicated and overwhelming. Therefore as your wholesale sign manufacturer we'll be summarizing all ADA sign criteria. There are various factors to consider when designing ADA signage, however as a sign designer you will be able to combine ADA criteria with an aesthetically attractive design. At Elite Letters & Logos we are dedicated to share our extensive knowledge in the sign industry with our partners in the sign industry.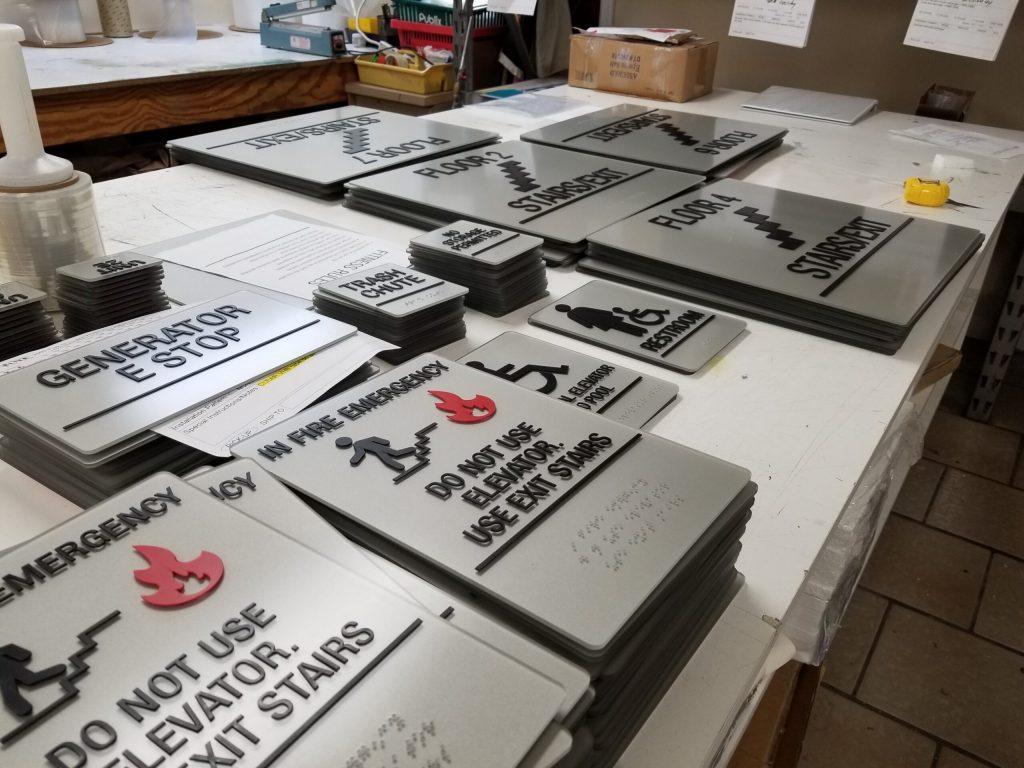 Before laying out the different criteria to design an ADA Compliant Sign, it's important to get the basics right. Below is a summary of the most important elements of an ADA Signs.
Plate: The plate is the main sign backer that holds all other elements together.
Tactile Lettering: Also referred to as raised lettering, the raised characters forming the sign copy. As per the Americans with Disabilities Act, the tactile lettering should be 1/32".
Braille: Braille is a system of raised dots that can be read with the fingers. At Elite Letters & Logos we use raster braille for all our ADA Signs.
Pictogram: A pictogram is an image that can be easily identified as the physical object which it is representing. It can also be called an icon, drawing, or symbol. The goal of a pictogram is to be easily recognized, without reading.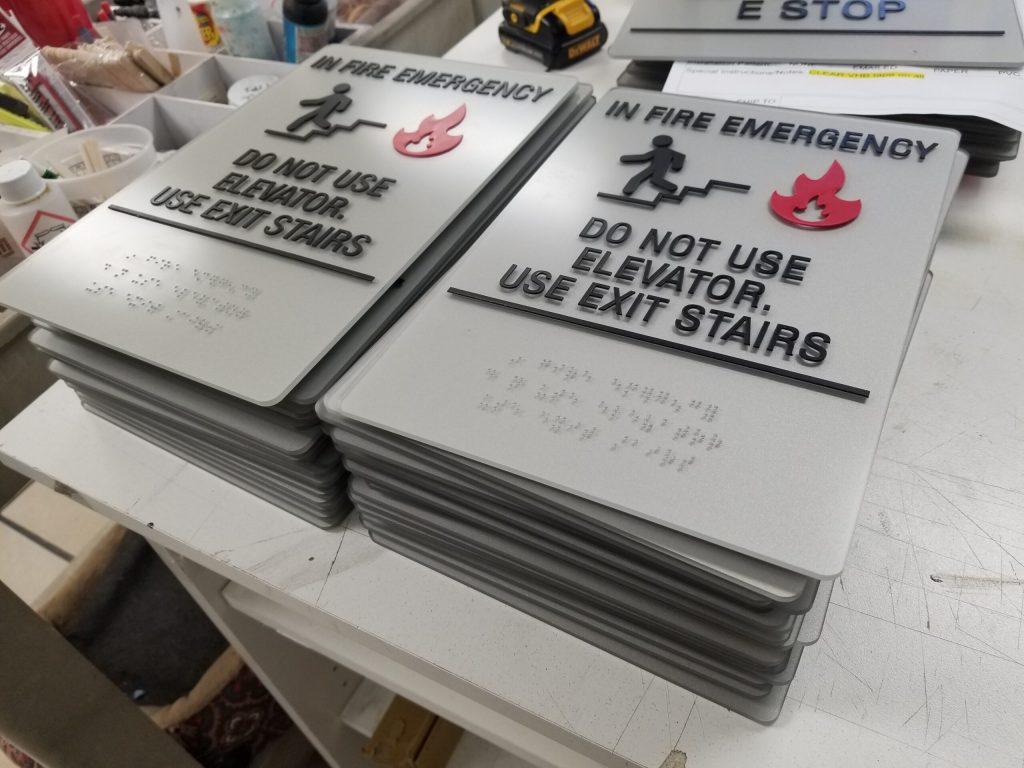 Now that we have the basic elements of ADA signage clear, let's move on to the actual signage criteria in order to design ADA Compliant Signs.
Text Size
The text size on each sign in order to be ADA compliant must be a minimum of 5/8" and a maximum of 2". The text must be raised tactile lettering with a minimum of 1/32".
Braille
All signs that indicate permanent room must have braille. The sign criteria stipulate that the braille must Grade 2. The braille should be a direct translation of the sign and must be placed directly under the copy. For multiple lines of text, the braille shall be located below the entire text.
Font
First of all the text copy must be in all caps. Furthermore the font must be sans serif and cannot be italic, script, bold or decorative in any way.
Finishing
In order for a sign to be ADA Compliant they must have a non-glare, matte or eggshell finishing. Reflective or glossy finishes are not allowed. Furthermore textures must be kept to a minimum as to not affect legibility. Since the signs are intended to be read by touch they cannot have any sharp or abrasive edges.
Contrast
An ADA sign must have a contrast ratio of 70 percent between the tactile lettering and the background. This means either dark letters on a light background or the use of light letters on a darker background.
Wholesale ADA Compliant Signs
We hope the above gives you a good understanding about the ADA sign criteria in order to start your next ADA project. If you are looking for a detailed overview of all criteria, check out our ADA Compliance Sheet. This is a handy tool that you can share with your team! In case you have any further questions about ADA Compliant Signs or would like to start your next sign project, feel free to contact us. Elite Letters & Logos is located in South Florida, shipping nationwide. Call us at (561) 296.9798  or fill in the contact form below.