As your wholesale sign manufacturer, we do not only make signs but with our manufacturing capabilities we also produce wholesale custom stencils. We offer a wide variety of wholesale custom stencils for different purposes. Continue to read to browse through the different types of wholesale custom stencils that we are offering and the different material options.
Types of Wholesale Custom Stencils
Alphabet Stencils
Alphabet Stencils are the most popular type of Wholesale Custom Stencils. With a variety of font options, upper/lower case, sizes and interlocking alphabet stencils, the options are endless. Alphabet stencils can be used to paint on roads, parking garages, wood, containers and more.
Number Stencils
To complement Alphabet Stencils, you can't miss out on Number Stencils. They are also available in different sizes and different fonts, with interlocking number stencils.
Pavement Markings
The Federal government has created standard sizes and shapes for stencils used for highways, streets, roads and parking lots. Their standard size and shape are easily recognized by motorists and are made to MUTCD standards.
Custom Stencils
In addition to the above listed stencil categories, at Elite Letters & Logos we also produce Wholesale Custom Stencils. This can come in handy when you are in need of custom designs or logos for your customer.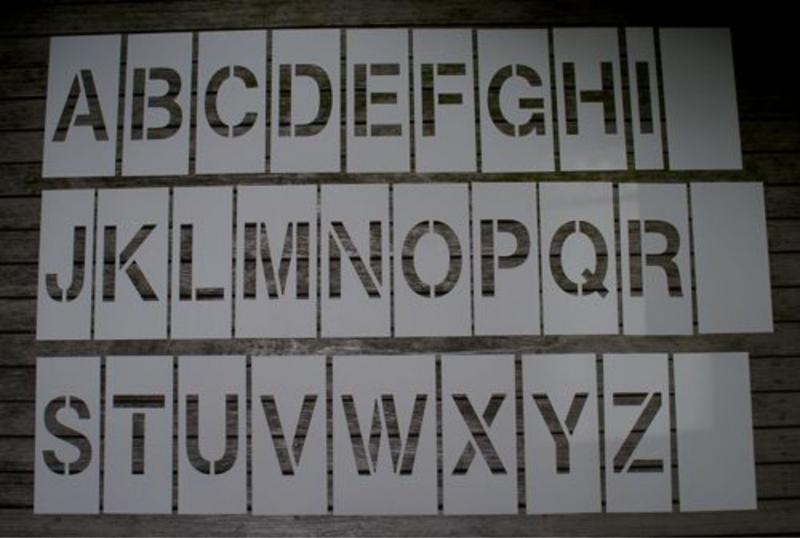 Wholesale Custom Stencils Materials
We offer different types of materials, depending on the usage of your wholesale custom stencils.
Polystyrene Stencils
Our polystyrene stencils for signs for business are made of a durable plastic. Polystyrene Stencils are available in 1/16" and 1/8" thick material. Since these stencils are pliable, they may be used on flat or rounded surfaces.
HDPE Stencils
HDPE Stencils offer a more durable option, opposed to Polystyrene Stencils and they are also available in 1/16" or 1/8" thicknesses. Paint will flake off easily, making it a good material for reusable wholesale custom stencils.
Dibond Stencils
Dibond stencils (also referred to as composite aluminum) are durable and reusable for many applications. Dibond stencils are an excellent choice when your job requires a rigid substrate, because they won't bend or break. Dibond stencils are an ultimately good choice for pavement markings.
Wholesale Custom Stencils by Elite Letters & Logos
In summary of the above, Wholesale Custom Stencils are a great product for many different types of applications. Whether you are using for one time use stencils or a more durable product, at Elite Letters & Logos we can help you out. From our location in South Florida we service sign companies and painting companies all over the United States. For any questions regarding Wholesale Custom Stencils or any other project call us at 561.296.9798 or request a quote here!