Before the introduction of ACM (aluminum composite material) on the market, solid aluminum plate was the primary option for sign blanks for sign companies across the country. Once ACM sheets were a novelty allowing manufacturer and distributors to flood the market with this new product, capturing a large share of the market.
At a first look, this market shift made a lot of sense, as aluminum composite provided a vast variety of standard colors and finishes. Further, it is lightweight and much easier to shape and form. All of those benefits come with a lower price as well.
Although ACM is used for a large variety of signs today, there is still a large (very large actually) demand for aluminum sign blanks, especially for street signs and the market for higher end projects.
Here at Elite Letters, your wholesale sign manufacturer, we are able to provide wholesale sign blanks with both Aluminum or ACM sheets, cutting to shape, priming and painting to any custom color. Which one to use? This is mainly a debate that includes these main factors: cost x durability x application.
In this article we will discuss the advantages of both options, discussing some usual applications. For the sake of clarity, when comparing signs we are taking in consideration a .08" aluminum sign blank and a 1/8" ACM blank.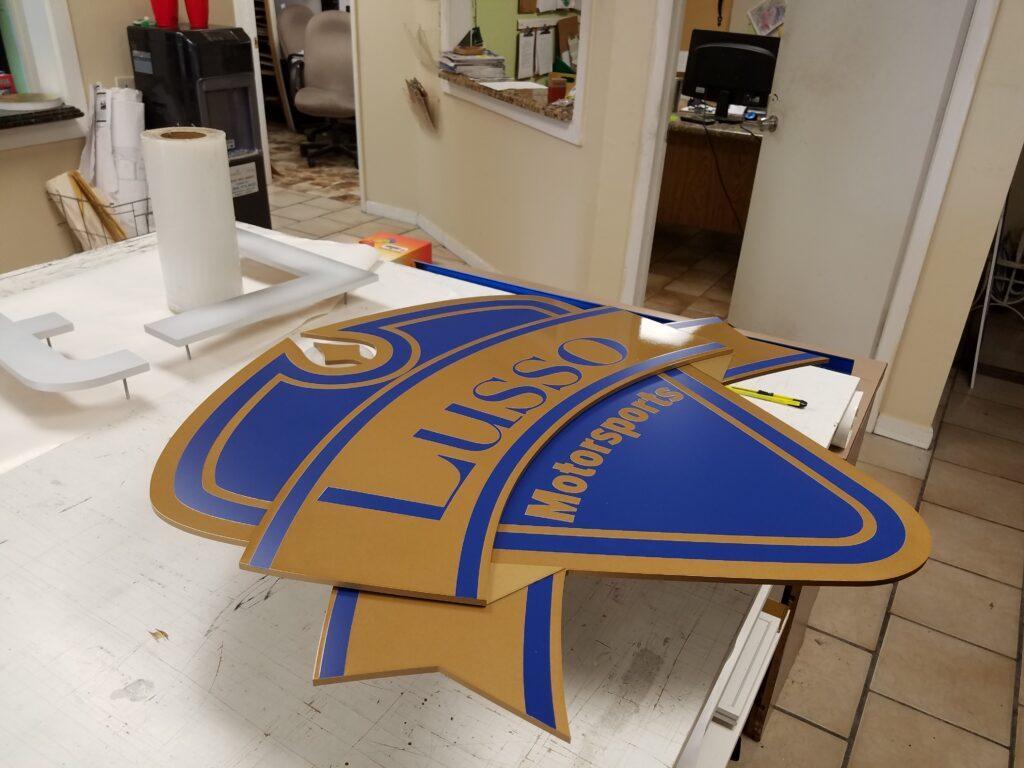 Aluminum sheets are a solid piece of aluminum which is a non-laminated product. They are usually provided in a mil finish or painted in white (depending on thickness and distributors). Standard widths come in 48" and 60" and the sheets standard thickness are .04", .063" and .08". There are thicker options, but they are not usually used for sign blanks.
Giving the sheets that we use for wholesale sign blanks are solid, edges and corners will have an overall better look. Compared to ACM sign blanks, solid aluminum blanks are a better option for high traffic areas, and they are more resistant. This applies particularly for street signs and wayfinding solutions.
In a few words, aluminum sign blanks are much less prone to bending and breaking than ACM sheets. This is a great advantage and makes aluminum a preferred material to be mounted in u-channel posts and other mounting brackets.
The next huge benefit of aluminum plate is its design flexibility. It can be welded, for example to a mounting bracket. In addition to this, aluminum sign blanks can be powder coated – an cost efficient painting option, which is also very resistant.
ACM or Aluminum Composite Material is available in 3mm and 6mm, it is a laminated product with a .015 metal skin on both sides and a polyethylene core. One big advantage that composite aluminum has over aluminum wholesale sign blanks is the wide variety of standard colors and finishes that are available. For example, you are able to obtain brushed aluminum finishes or reflective gold faces.
Another major advantage of ACM Wholesale Sign Blanks is the weight. ACM sheets are lightweight, which makes it easy to work with and install. Considering the pricing advantage as well, ACM sign blanks are the primary option for post & panel signs, wall-mounted panels, and low-traffic wayfinding signs.
Finally, ACM is more cost efficient, and this has a considerable impact in large projects.
Wholesale Sing Blanks by Elite Letters & Logos
In summary both materials have many advantages, but the end application and budget will dictate which wholesale sign blanks would be a better fit. Strength to weight ratio is a win for ACM, but the per square inch strength is not so great, so a lot depends on how you're going to mount the signs.
Do you need sign blanks for your next project? We provide wholesale sign blanks at competitive pricing and shipping everywhere in the US. Our professional team will be happy to help you through technical questions, so you choose the right product for you project. As your wholesale manufacturer, located in south Florida, contact us today if you have any questions. We are excited to work with you!!!